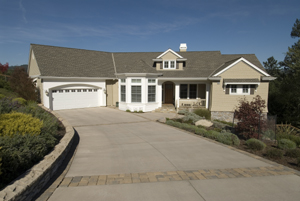 The goal when designing a driveway is often two-fold — to add to the curb appeal of your home while providing a solid, low maintenance surface that adequately supports the weight of your stationary vehicles. Each objective requires different decisions and different knowledge on the part of your contractor.
Let's examine the second point first since in many respects it is the more critical of the two. One of the most important considerations in laying a good driveway is actually the part which is hidden — what is below ground will determine the longevity of the surface above. Some clients want to fix things up "just for now", while others want a job they know will last long into the future. As always, it's your house and at TBG we'll work with you to find the best solution for your requirements and budget.  We've been around long enough to know how important a solid foundation is to a driveway project and we know that there are a lot of companies out there that just want to do a quick job and move on to the next. They're not concerned with building a reputation that they can be proud of nor are they interested in repeat business or referrals. That's not the way that we do business at TBG. We'll make sure that the driveway project that we work on with you today is one that you will be happy with, regardless of how long you intend it to last.
The more complex solution initially requires removal of material down to a solid base. In Canada, this means digging deep enough that our inevitable winter cycles of frost and thaw do not lead to problems of shifting or heaving. Adequate drainage, a heavily compacted base, and at least a couple of inches of compacted top material are laid before the final surfacing.  We guarantee that choosing a foundation like this will outlast your neighbours and give you many years of trouble free driveway use.
Choosing a final surface material is a choice made based on your personal preference as well as your landscape style and maintenance tolerance. This is the fun part of the project and an opportunity to significantly improve the "curb appeal" of your home! There are many options to choose from, you are limited only by your imagination when selecting the style which will best suit your house.